Nineth CD: Antoine Simon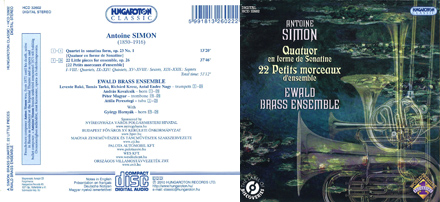 Description
French-born pianist, conductor and composer Anton Simon (Anton Yulevich Simon, 1850–1916) was, from 1871 until his death, active in Russia as conductor at the Théâtre Bouffe in Moscow, piano teacher at the music school of the Russian Philharmonic Society, superintendent of the orchestra of the Imperial Theatre, and subsequently director of Aleksandrovsky Military Academy. The backbone of his oeuvre consists of piano works (salon and character pieces, concert i), and he produced some important and successful stage works (operas: Rolla, Song of love triumphant, The fishers; ballets: The stars, Living flowers, Esmeralda) and orchestral works (Dance des bayadères, Festival orchestral overtures).
Anton Simon's music is rarely played nowadays, and in fact, his name is remembered by stage music aficionados due to a misunderstanding. The pas de deux of The pirate was, when the ballet was once restaged, replaced by Simon's by-then famous " Variation de la Reine des Dryades (Souvenir de Bal)" which had originally been a dance variation on Minkus' Don Quixote, and so the popular dance was for a long time regarded as a piece by Minkus.
In addition to the main trends in his oeuvre, Simon composed several chamber works for brass, including the four-movement Quatuor en forme de Sonatine (op. 23 No. 1) and 22 Petits morceaux d'ensemble (Op. 26) on this recording. The virtuoso, "instrumentally conceived" works were part of the abundant output of music for brass that was highly popular in Russia in the latter half of the nineteenth century. It was a unique culture multifariously connected to the traditions of Russian court horn ensembles that had Mediaeval roots and were unique in Europe.
Like everywhere, in Russia too, horns had for centuries been exclusively used as an accessory in hunting, until in 1751 one Jan Mareš, court conductor of Count Narisin, intendant of the Tsar's Theatre, founded a court horn ensemble with differently-tuned natural horns. Each of the initial 15 and later 30–35 players played just 1 to 3 notes on his instrument made of metal or wood, straight or curved instrument with a conical end. The range of the group would have been around 4 and a half octaves, its slightly vibrating sonority reminiscent of the organ. Its popularity is marked by the fact that Tsarina Elizabeth was one of the first monarchs to establish her own horn ensemble, and shortly every aristocrat hired horn ensembles. Their programmes chiefly consisted of marches, songs, dances and character pieces. They performed mainly at festive court events, such as receptions, ceremonies and boat cruises, frequently to contribute to the success of diplomatic missions, since they usually made a profound impression on foreign guests.
During the nineteenth century this uniquely Russian-style of court music-making waned. The horn ensemble sighed its last in 1896 at the coronation of Tsar Nicholas II, after which historical turmoil confined it to oblivion. It did not die without a trace, however. Russian brass music (in the modern sense) of the nineteenth century until fin-de-siècle period and later was rooted in this tradition – and was shaped by some other favourable conditions, too. These included, for example, the tradition of sextet and septet playing, adopted from Finnish, Swedish and Norwegian military and amateur musicians after the Russian-Finnish war, and the foundation of professional ensembles (e.g. the Chamber Music Society of Saint Petersburg or the Bolshoi Brass Quartet, the Saint Petersburg military band). The expert support of Tsar Alexander III, himself an active cornet player, also gave a boost, in particular the brass evenings he held every three weeks with the participation of 50 instrumentalists.
Consisting of members of military bands and aristocrats, the amateur military brass chamber ensembles made it to the press as early as in the middle of the century (the first chamber work for brass composed in Russia was by a foreigner, Ludwig Maurer). The first professional brass quartet on the Moscow music scene was founded in 1888 by musicians from the Bolshoi Theatre. The instruments included two cornets, two horns and a trombone – and Simon composed his op. 23 Quatuor en forme de Sonatine and the first eight of the 22 pieces for an ensemble consisting of these very instruments.
The Brass quartet in sonatina form op. 23 is a regular four-movement chamber work – interestingly all its movements are in triple time. In developing the themes, the composer attached great importance to exploiting every opportunity to effectively introduce each instrument. Consequently, the vigorous, masculine cantilena alternates with signal-like types of theme. The cycle consists of a sonata-form Allegro grazioso opening movement, a lied-form, moderately slow Andante tranquillo, a witty, virtuoso scherzo (quasi presto) and, to round it off, a real speciality, an "à la Russe" Allegro moderato in 6/4: a rondo evocative of the coarse lilt and naïve serenity of Russian folk music.
While the quartet was probably performed on concert-like occasions, the movement titles of 22 Little pieces for ensemble (Op. 26, 1887) suggest they were played at open-air events. The locations are varied: parks, gardens, railway stations (travelling by train was a big thing, hence the fact that the railway stations of the holiday resorts in the vicinity of Moscow and Saint Petersburg had restaurants and ballrooms for the train trippers). Arranged in four booklets, the marches, dances and character pieces were written for different (progressively larger, from quartet to septet) ensembles in each volume.
Enikő Gyenge
English translation by Miklós Bodóczky
Tracklist and listening samples
| | |
| --- | --- |
| 1-4 | Quartet in sonatina form, op. 23 No.1. 13'20'' |
| | 1 I. Allegro grazioso |
| | 2 II. Andante tranquillo |
| | 3 III. Scherzando (quasi presto) |
| | 4 IV. Allegro moderato (á la Russe) |
| 5-26 | 22 Little pieces for ensemble, op. 26 37'46'' |
| | 5-12 I. Quartets |
| | 13-18 II. Quintets |
| | 19-22 III. Sextets |
| | 23-26 IV. Septets |
Total time: 51'12''