Sixth CD: J. H. Schein: Chamber Music for Brass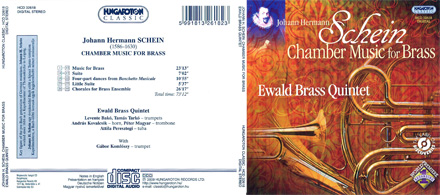 Description
Johann Hermann Schein (1586-1630, composer and poet) was born in Grünhain near Dresden, and started his musical education in the choir of the Weimar elector under Rogier Michael. Owing to his exceptional talent, he was admitted to the Schulpforta, an important Naumburg school maintained by the elector, which he attended between 1603 and 1607. With aristocratic patronage, he read law between 1608 and 1612 at the University of Leipzig. His first printed collection, Venus Kränzlein, was published there in 1609.
He began his career as a musician as Kapellmeister at the court of Duke Johann Ernst Jnr in 1613. In 1616 he successfully applied for the vacated post of cantor at the Thomaskirche in Leipzig, which he would hold until his early death in 1630. In Leizpig he shared much of the manifold tasks that befell on Johann Sebastian Bach a generation later. He was in charge of leading the musical ensembles of the Thomas- and Nicolaikirche, of providing musical services for weddings and funerals, and on top of that, teaching at the Thomasschule (10 hours of Latin grammar and 4 hours of music a week).
Schein was one of the first to apply the modern Italian Baroque innovations in a German Evangelical context - the monodic idiom, the painterly portrayal of texts, the concertato style and the continuo technique. His affinity with Italian fashions is particularly admirable, because unlike Schütz, who travelled to Italy on many occasions, Schein never in his life so much as left Saxony and Thuringia. His early concertato-style works (Opella nova, 1618) follow the pattern of Viadana's Cento concerti ecclesiastici, the influential collection that was published in Germany in 1609 when Schein was a student.
If Schütz is chiefly known as a composer of church music, Schein's oeuvre is divided roughly equally into sacred and secular works, for the most part vocal works. In the preface to Banchetto musicale (1617) he asserted his intention to publish sacred and secular pieces in regular alternation. Schein's career and compositions certainly reflect the accomplishment of this intention. Independent of the sacred or secular character of the piece, the compositional technique can be regarded as coherent. Schein published a cappella choral works (Cymbalum Sionium, Cantional and Venus Kränzlein), several collections in concertante style for few voices and continuo accompaniment (Opella nova and Musica boscareccia) and explored the genre of madrigals with continuo (Israelis Brünlein and Diletti pastorali). The compositional technique may have been consistent, but there are huge differences in terms of approach. In addition to Israelis Brünlein - employing the most subtle Italian madrigalesque style and unique in Germany for its deep poetry, comparable only to Schütz in quality - some of his secular collections feature scores of table songs and drinking songs of the coarsest humour.
Schein's few instrumental-only works were published either in various collections of vocal music (Venus Kränzlein, Cymbalum Sionium), or as independent incidental pieces (the music for weddings) or as part of Bancheto musicale.
The works on this recording are selected from modern editions of dances without specification of instrumentation, they are respectively brass-ensemble versions of Schein's chorale arrangements.
Published in 1617, Banchetto musicale is one of Schein's most popular works, containing independent groupings (suites) of "pavanes, gaillardes, courantes and allemandes." According to the preface, they can be performed on any kind of instrument, but the composer recommends viols. They were probably intended as Tafelmusik for the Weissenfels and Dresden courts. Rooted in the tradition of 16th-century dance-pairs, they are the wonderful first examples of the so-called variation suite. This recording features a combination of two such dance pairs, the Pavane-Galliard and the Allemande-Tripla, and the two groups are connected by a courante, turning the pieces into a five-movement suite. The individual suites are connected by the identical key and the related musical material. Variation is accomplished on two levels. The allemande is followed by a special "tripla" variation which does not count as a separate dance; it is merely a triple-time variation of the allemande. The other three dances are thematically more loosely related, but the melodies are clearly related throughout. It is the last of Schein's collections where, in keeping with the strict five-part idiom of the prima prattica, he did not employ the continuo technique.
Schein's chorale arrangements (Cantional oder Gesangbuch Augspurgischer Confession, 1627) comprise, however, the first collection of chorales of the period that uses figured bass "for the benefit of organists, instrumentalists and lute players." Although four-part arrangements of Luther's hymns had regularly been published for over fifty years by then, Schein's 4 to 6-part chorale arrangements were considered to be the largest and most comprehensive collection at the time, consisting of every melody used in the liturgy of the churches of Leipzig.
Tracklist and listening samples
1-13. Music for Brass
5. Canzona

14-17. Suite
18-22. Four-part dances from Banchetto Musicale
23-25. Little Suite
26-44. Chorales for Brass
44. Nun danket alle Gott

Total time: 73'12''